03.05.2017
euromicron's subsidiary telent establishes innovative IoT solution for SPIER Fahrzeugwerk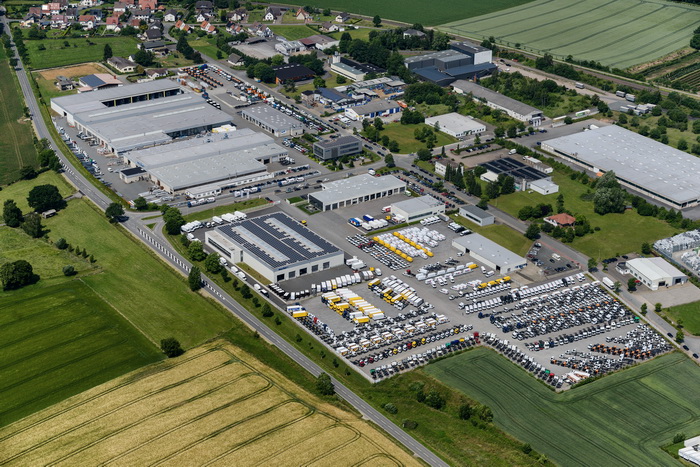 SPIER Fahrzeugwerk maintains an overview of up to 1,000 trucks and trailers on its grounds thanks to radio-based sensors. telent – a euromicron Group company – and conbee GmbH implemented the Internet of Things (IoT) solution. In particular, the two companies contribute their solutions for tracking movable objects, such as vehicles, containers or other objects, at company campuses, industrial estates and airports to the cooperation.
Frankfurt/Main / Backnang, May 3, 2017 – SPIER Fahrzeugwerk specializes in customized bodies, extensions and trailers for vans and trucks. At times, there are up to 1,000 vehicles on the company's campus. Since they do not have license plates, they often look alike as two peas in a pod. So that the desired van can be found reliably and quickly and waits at the workshop can be reduced, SPIER decided in favor of an innovative Internet of Things (IoT) solution. The two companies telent – a euromicron Group company – and conbee GmbH, both proven specialists for the Internet of Things, jointly created the smart service.
telent equipped SPIER's campus with a low-radiation LoRa® network. These low-power wireless networks can be installed without any impairment to ongoing business operations, use hardly any power and have a particularly wide range. They are excellently suited for transmitting information, such as that generated in geolocation or tracking. conbee GmbH uses the "conbee LoRa™/BLE Hybrid TAG" in this network. These are devices that are equipped with various sensors and transmit their data over the LoRa® network. Every vehicle is given a tag as soon as it is delivered. From that moment on, the vehicle can be found anytime, anywhere on the grounds, in the production halls or their environment within a very short space of time, rapidly and without any mix-up. It is impossible for one vehicle to be mistaken for another. The data the tags continuously collect and forward over the LoRa® network flows directly into telent's IoT software platform, is visualized there and can be processed further. That means SPIER's administrative staff can access various services, such as selective data analysis, real-time location, tracking or alerting. Dashboards with live data increase transparency for all processes and so enable important conclusions to be drawn. In addition, the location of vehicles can also be displayed on mobile devices, such as smartphones.
"The geolocation solution enables us to pinpoint vehicles quickly on the 130,000 m² campus and so reduces the time and effort involved in finding them. Thanks to the associated software, every employee can access the vehicles' position data – using any terminal device," states Andreas Fast, Head of Office-based Sales and Marketing at SPIER GmbH & Co. Fahrzeugwerk KG. "Backed by our experience in digitizing processes and integrating technologies, we were able to implement a customized IoT solution for SPIER very quickly together with our technology partner. The solution enables the customer to boost the flexibility and efficiency of its business and production processes. As an innovative company, SPIER thus leverages the advantages of digitization to ensure its own success," adds Jürgen Hansjosten from euromicron AG's Executive Board.
For any further questions please contact
telent GmbH - ein Unternehmen
der euromicron-Gruppe
Gerberstraße 34
71522 Backnang
Telefon: +49 7191 900-0
Telefax: +49 7191 900-2202
info.germany(at)telent.de
www.telent.de