100% cloud-based - 100% convincing
Simplified data networking with Cisco-Meraki

As a Cisco Gold Partner and official Cisco Meraki Partner, we're happy to advise you. Talk to us about the challenges facing you!
Smart Building Solutions
Trends such as IoT and Industry 4.0 are changing not only working methods and communication but also the places and buildings in which we work. The key concept is "smart building solutions". Smart buildings are created by a highly-available, fail-safe network infrastructure. Network strategies are therefore crucial in the restructuring of companies if they are to fulfil increasing requirements and remain competitive.
Controlling buildings securely with smart networks
With Meraki, Cisco radically simplifies the establishment, management, monitoring and expansion of company networks – with a central, cloud-based dashboard and an integrated architecture.
Central cloud management for WLAN, switching, security appliances and mobile device management with Meraki makes the complexity of traditional network architectures redundant and thus massively lowers costs. The flat-rate price includes maintenance, support and new functions on an ongoing basis – giving companies planning and cost reliability for their infrastructure.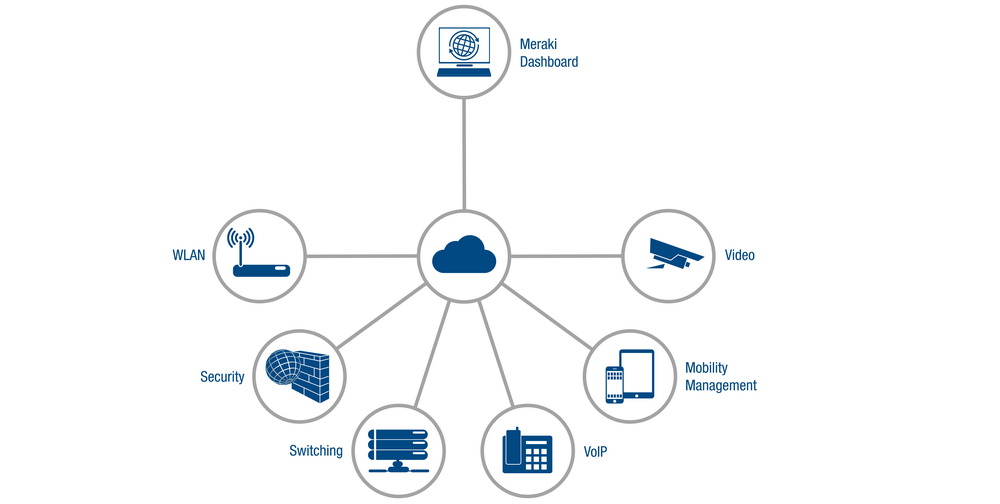 Intuitive
A simple management platform – the Meraki Dashboard
Cloud-hosted and browser-based

Reliable
Highly-available Meraki cloud with computer centres in Europe (Frankfurt, Munich, Dublin)
Customer network also functions when connection with the cloud is lost
99.99% operating time according to Service Level Agreement (SLA)
Scalable
Unlimited throughput, no bottlenecks
Fast addition of devices or sites in a few minutes

Secure
Indiscriminating business information is stored in the cloud – not user data!
HIPAA/PCI compliant (highest level 1 certification)
Security audits carried out by third parties, daily testing for intruders and access
Automatic firmware and security updates (user-defined)
Disaster recovery and preparedness process
The advantages for you at a glance
Turnkey installation and management: no additional hardware or software required
An integrated solution that is always up to date
Scalable from small branches to large-scale networks
Integrated architecture includes device management, guideline management, visibility and access monitoring without additional costs
No special training courses or dedicated staff necessary
Super-simple provision speeds up installation and reduces costs
All-in price for maintenance, support and ongoing new functions
Cisco Meraki live webinars
Why not take part in an introduction to Meraki and Cisco cloud-managed IT products? The introduction includes a presentation of our wireless access points, security devices and features, switches, mobile device management and monitoring cameras. You'll learn how our products make your network more reliable, dramatically simplify network management and lower your TCO costs. As a thank you for taking part in the webinar, you'll receive a Cisco Meraki access point free of charge.

Further information
On the subject of security and the EU Cloud:
https://meraki.cisco.com/trust
---
Have we piqued your interest?
Contact us
Arrange a meeting for free consultancy services.
We are happy to provide more information upon request.